The more I study him, the more of his work I read, the more I appreciate him and am in awe at the quality, genius and scope of his writing. There's a lot of different reasons why you should care about (and read!) Shakespeare, or at least familiarize yourself with the scale and scope of his work. See below for a few of my favorite reasons!
1) Shakespeare's works are universal and enduring — no matter what time period they're read in.
This is the most important reason, obviously. It's remarkable to me the scale and scope with which Shakespeare has been studied and performed. And to this same regard, the level to which he has influenced society, from pop culture to daily colloquialisms and language.
Samuel Johnson's preface to The Plays of Shakespeare (1765) states, "[Shakespeare's] characters …are the genuine progeny of common humanity, such as the world will always supply, and observation will always find." Simply put, they are just as relevant today as they were when they were written. They help us understand people, and the human condition. His works are emotional, witty, historical, pithy, tragic and heartwarming. They provide the kind of moral ambiguity that is everlasting, requiring debate and conversation as if the issues and scenarios described were philosophy itself.
But above all, he was masterful at imbuing his stories and his characters with qualities that audiences and readers identify with — Hamlet's anguish and anger, Ophelia's distress, Macbeth's greed and ambition, the enduring love between Romeo and Juliet. And that is precisely why his works — and characters — are so timeless. Because they are SPOT on.
2) We quote Shakespeare every day without even knowing it.
There are so many phrases and idioms in the English language that are actually derived from Shakespeare's plays — and this, of course, does not include all the words he made up that we still use today; words such as bandit, critic, dauntless, lonely, skim milk, and swagger (yes, he made up "swagger"). See below for a few of the phrases we commonly use!
"WILD GOOSE CHASE" // ROMEO AND JULIET, ACT II, SCENE IV
"OFF WITH HIS HEAD" // RICHARD III, ACT III, SCENE IV
"GOOD RIDDANCE" // TROILUS AND CRESSIDA, ACT II, SCENE I
"IT'S GREEK TO ME" // JULIUS CAESAR, ACT I, SCENE II
"LOVE IS BLIND" // THE MERCHANT OF VENICE, ACT II, SCENE VI
"BE-ALL, END-ALL" // MACBETH, ACT I, SCENE VII
"BREAK THE ICE" // THE TAMING OF THE SHREW, ACT I, SCENE II
"KILL WITH KINDNESS" // THE TAMING OF THE SHREW, ACT IV, SCENE 1
"THE GAME IS AFOOT" // HENRY V, ACT III, SCENE I
3) Influencing Pop Culture.
As you probably already know, Shakespeare has influenced quite a bit of our pop culture…namely, film and TV. See below for a few of my favorite retellings!
SHE'S THE MAN // TWELFTH NIGHT
Viola Johnson (Amanda Bynes) is in a real jam. A soccer star at her high school, Cornwall, she's athletic, pretty and has an attractive boyfriend. But when her soccer team is cut from the roster, and she's not allowed to join her boyfriends, she decides to pose as her brother, Sebastian, at his new school, Illyria. Sebastian actually just snuck off to London to play music, so her opportunity is perfect. However, complications arise when she falls in love with her handsome roommate, Duke (Channing Tatum), who loves beautiful Olivia, who in turn… has fallen for "Sebastian." Star-crossed lovers…kinda?
10 THINGS I HATE ABOUT YOU // THE TAMING OF THE SHREW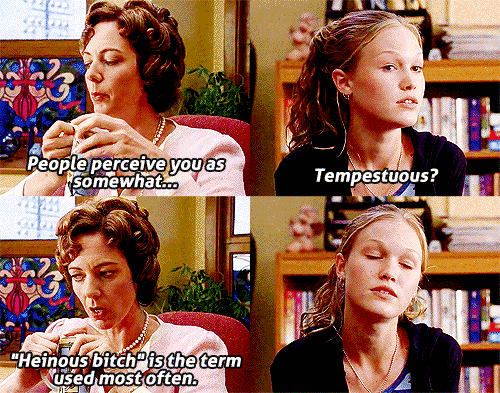 Kat Stratford (Julia Stiles) is beautiful and smart, though pretty abrasive to most of her fellow teens. Naturally, this means that she doesn't attract many boys. Unfortunately for her younger sister, Bianca, house rules say that she can't date until Kat has a boyfriend, so strings are pulled to set the dour damsel up for a romance. Soon Kat crosses paths with handsome new arrival Patrick Verona (Heath Ledger). Will Kat let her guard down enough to fall for the effortlessly charming Patrick? Dun dun dun.
THE LION KING // HAMLET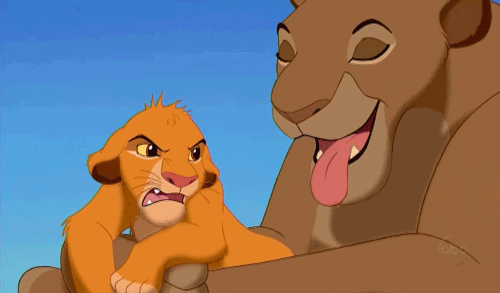 I feel like this one is pretty familiar for most of you, but here's a quick synopsis: this Disney film follows the adventures of the young lion Simba, the heir of his father and leader of the kingdom, Mufasa. However, Simba's wicked uncle, Scar, plots to usurp Mufasa's throne by luring father and son into a stampede of wildebeests– Simba escapes, but only Mufasa is killed. Simba runs away in shame, though later returns as an adult with the help of Pumba and Timon to retake the kingdom that is rightfully his (news flash: this ends a LOT nicer than actual Hamlet).
WEST SIDE STORY // ROMEO AND JULIET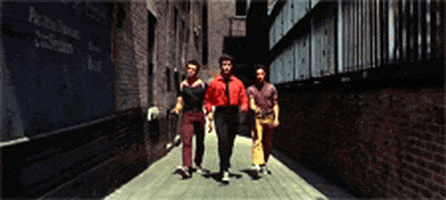 Another pretty familiar one: on the harsh streets of New York's upper west side, two gangs battle for control of the turf. The situation becomes complicated when a gang members falls in love with a rival's sister This really is a wonderful modern telling of Romeo and Juliet, and as a bonus, there's some pretty amazing music to go along with it.
4) And just another cool thing to throw in here: Shakespeare's reach is cosmic.
The planet Uranus has 27 moons, the majority (25 to be exact) of which are named for Shakespearean characters:
Titania, Oberon, Puck (A Midsummer Night's Dream)
Ariel, Miranda, Caliban, Sycorax, Prospero, Setebos, Stephano, Trinculo, Francisco, Ferdinand (The Tempest)
Cordelia (King Lear)
Ophelia (Hamlet)
Bianca (The Taming of the Shrew)
Cressida (Troilus and Cressida)
Desdemona (Othello)
Juliet, Mab (Romeo and Juliet)
Portia (The Merchant of Venice)
Rosalind (As You Like It)
Margaret (Much Ado About Nothing)
Perdita (The Winter's Tale)
Cupid (Timon of Athens).
(The two remaining moons, Umbriel and Belinda, are named for characters in Alexander Pope's The Rape of the Lock.)